The people behind the Greater Victoria Animals Crusauders
How we got started and what we do to continue making a difference in Greater Victoria
President, Small Animal, Foster and Adoptions Coordinator
I have been involved with GVAC since 2007.  I had just lost my cat suddenly and tragically and while I wasn't ready to replace the hole in my heart, the house felt empty wi
th out a cat in it; so I decided to start fostering and have been ever since.  I have been a "foster failure" several times and have collected a house full of misfits over the years.  Each and every one of them is a "rescue" of sorts and somehow, they all get along.  They even seem to embrace the fosters that come and go, and sometimes stay – maybe realizing that fosters need their help.  My kids have grown up amidst the little zoo we have here – bottle feeding newborns, helping to administer medical needs, taming feral kittens – they have done it all.  And there have been many days and nights when the need is overwhelming and sometimes there are tears when we have to let them go but we wouldn't have it any other way.
---
Vice President, GVAC House, Foster and Adoptions Coordinator
My children and I started volunteering as Cat Cuddlers at Pet Sm
art for GVAC Rescue when we moved to Victoria in 2007.  It was a great opportunity for them to have something that they felt responsibility for and that got them out helping in the community.  We also were new to town and liked the opportunity to meet new people in a way that was close to our hearts (caring for animals).  I have always loved animals.  We currently have three cats (Zoey, Joey, and Poppy).
In the fall of 2012, I got to see what GVAC Rescue does for "those cats left behind" in a very personal way.  My family and I rescued 9 cats from a hoarder's property in Metchosin.  GVAC Rescue paid for the vet bills for each and every one of them and helped us to find good homes for them all.  I was hooked, and joined the board very shortly afterwards.  I love my volunteer job and can't imagine my life without it now.
---
Director, Volunteer Coordinator
When I discovered GVAC, I knew instantly that this group was very special, and I signed up to volunteer as a cat cuddler.
A few months later I unexpectedly had to say good bye to my best cat-friend Georgie, and although devastated, I found that spending time with the variety of sweet personalities at GVAC was not only good for them, but also healing for me…and before I knew it I had been chosen by a wonderful little soul named Rocky to become his new cat mom!
I was so impressed by GVAC's philosophy, ethics and loving approach to rescuing, caring for, placing, and helping it's animals that I knew without a doubt that I needed to be much more involved in every way possible to assist this fantastic organization! So when the opportunity arose to join the Board, I jumped at it. I look forwa
rd to many years of contributing to the continued successes of GVAC, and of course I wouldn't give up my cat cuddling duty for the world
---
Director, Treasurer
After moving to Victoria from up island,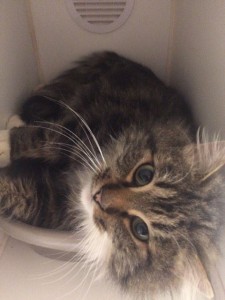 I adopted Dewey from GVAC. I really appreciated their adoption system of home checks, and vet care. Shortly after I became a "cat cuddler" volunteer, spent a year and a half as the volunteer coordinator, and here I am now!
I am in school taking pre-requisites to (hopefully!) get into veterinary school, and have always grown up around and loving animals. I enjoy meeting all the animal lovers involved, and all the critters that pass through this rescue.
---
Members at Large – TBA soon!