The people behind the Greater Victoria Animals Crusauders
How we got started and what we do to continue making a difference in Greater Victoria
President, Small Animal, Foster and Adoptions Coordinator
I have been involved with GVAC since 2007.  I had just lost my cat suddenly and tragically and while I wasn't ready to replace the hole in my heart, the house felt empty wi
th out a cat in it; so I decided to start fostering and have been ever since.  I have been a "foster failure" several times and have collected a house full of misfits over the years.  Each and every one of them is a "rescue" of sorts and somehow, they all get along.  They even seem to embrace the fosters that come and go, and sometimes stay – maybe realizing that fosters need their help.  My kids have grown up amidst the little zoo we have here – bottle feeding newborns, helping to administer medical needs, taming feral kittens – they have done it all.  And there have been many days and nights when the need is overwhelming and sometimes there are tears when we have to let them go but we wouldn't have it any other way.
---
Vice President, GVAC House, Foster and Adoptions Coordinator
My children and I started volunteering as Cat Cuddlers at Pet Sm
art for GVAC Rescue when we moved to Victoria in 2007.  It was a great opportunity for them to have something that they felt responsibility for and that got them out helping in the community.  We also were new to town and liked the opportunity to meet new people in a way that was close to our hearts (caring for animals).  I have always loved animals.  We currently have three cats (Zoey, Joey, and Poppy).
In the fall of 2012, I got to see what GVAC Rescue does for "those cats left behind" in a very personal way.  My family and I rescued 9 cats from a hoarder's property in Metchosin.  GVAC Rescue paid for the vet bills for each and every one of them and helped us to find good homes for them all.  I was hooked, and joined the board very shortly afterwards.  I love my volunteer job and can't imagine my life without it now.
---
Recording Secretary
Christina provides administrative support to the board in her role as recording secre
tary with a dog at her feet and a cat in her lap. Spending the last 20+ years working with a variety of wild and domestic species Christina has an extensive background rehabilitating, training and caring for animals. Christina is passionate about animal welfare and has a weakness for rabbits and senior animals. Christina has been a GVAC foster since 2013 and has been a foster flunky more than once! She is inspired by the many people she meets through GVAC who open their hearts and homes to rescue animals. Christina is owned by dog Luna, cats Norman, Lucy and Daisy, rabbits Flopsy, Mopsy, Peter and Harvey and chickens Gertrude, Ginger and Nicky.
---
Marion has been a powerful force in the world of animal rescue ever since she was a little girl. Over the years, she has dedicated her time as a volunteer with the BC SPCA, the Burnaby Wi
ldlife Rehabilitation Centre, the CRD pound, and of course with GVAC. Marion joined GVAC in 2004 and has been a devoted volunteer ever since. She has fostered countless animals and has been a key player in developing the feral cat program. Both of Marion's dogs and one of her cats have come to her through GVAC. Marion is very excited to be joining the GVAC Board in the Treasurer's role and looks forward to helping with the great work that GVAC does!
---
Volunteer Coordinator
I moved to Victoria at the beginning of last year from up island, and shortly after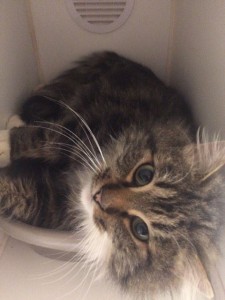 adopted Dewey from GVAC. I really appreciated their adoption system of home checks, and vet care. Shortly after I became a "cat cuddler" volunteer, and here I am now!
I am in school taking pre-requisites to (hopefully!) get into veterinary school, and have always grown up around and loving animals. I enjoy meeting all the animal lovers involved, and all the critters that pass through this rescue.
---
Members at Large – TBA soon!